Grading For Your Belt
Karate took its belt ranking system from Judo. The Karate belts and ranks are beneficial in the way that they provide a benchmarking system for both instructors and students. Students can be organized quickly into groups when teaching a large class. A sensei at one glance can know what level a student is and instantly know what syllabus that person is training to.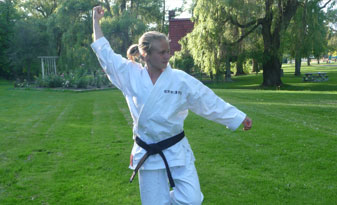 Students can set short term goals and feel a sense of satisfaction once they meet the next rank as well as confirming that that have progressed their karate ability. When a student reaches a new kyu rank, they are encouraged to work harder to progress again to the next kyu, which is usually a minimum of 3 months in training.
All students should familiarize themselves with the various requirements for each belt level prior to turning in their grading application. If you are unfamiliar with any of the kihon, kata, or kumite required for your next belt level, you should not attempt to grade, but instead you should continue to train until you feel comfortable with all of the requirements. If in doubt speak with your sensei.